About Us
About Golf Star Academy
Golf Star Academy are engaging the future of golf. Through our program designed exclusively for children from the age of 5-16 years old, we are able to introduce all aspects of the game in a fun learning environment.
The Golf Star Academy program builds on the child's enthusiasm for the game by making sessions fun while teaching, inspiring and challenging these young players. Our Golf program creates a learning environment which enables young players to develop at their own rate.
Whether your child is new to the game or looking to take their skills to the next level Golf Star Academy professional coaches are dedicated to maximising your child's potential.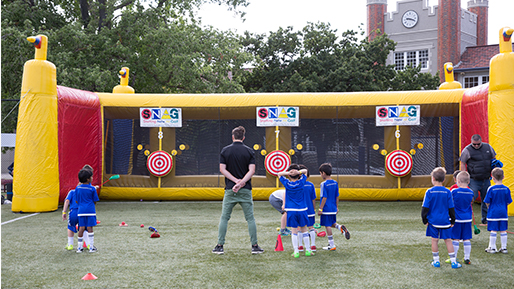 The Golf Star Academy program
Our unique golf program includes colourful targets, balls and equipment. This allows our coaches to focus on skill development areas such as grip and setup,  putting, chipping, pitching and driving.
Additionally, our golf program incorporates  Physical Education, Science and Mathematics, assisting your child as they grow and learn throughout their time with Golf Star Academy.
As your child progresses with their golf skills, we provide a range of services to help them master the game. With One on One coaching available at one of our facilities, driving ranges or golf clubs as well as our Elite squad which comprises of our most promising players from our weekly sessions.
Golf Star Academy registration
By joining Golf Star Academy you become part of a larger sport community offering multiple sport programs for your child. As part of this registration fee you also receive benefits from our sponsors and partners. These include:
Access to our sponsor discounts
VIP shopping nights
Access to workshops and seminars
Player pathways and management 
Sibling discounts across academy programs