Is football your passion? Be part of the award winning team developing the future football stars of tomorrow. The Football Star Academy footprint is growing and it's never been a more exciting time to be part of football in Australia. Find out how you can be part of this football movement.
Welcome to Football Star Academy franchise business opportunities. 
Established in 2002 Football Star Academy (FSA) has grown at an incredible rate. Since our humble beginning over 250,000 children have participated in our kids football programs across Australia.
In 2017 Football Star Academy was awarded "Franchise Business of the Year" in the Optus My Business Awards. This is a true testament to the hard work, commitment and ongoing support our franchise partners get to experience.  Recently this year FSA was awarded "Best national school aged activity (5-12yo)" at the What's on 4 Kids awards. 
Find out more about our award winning franchise team by watching our 2017 highlight video presented at the Sport Star Academy conference held in QLD
As the leading provider of youth football (soccer) programs, we specialise in kids football skill development and mentoring young players to be the best they can be. We pride ourselves on our unique relationships with both parents and children. What separates us from our competitors are our qualified coaches, who possess the passion and dedication which is evident in the way they coach the children and how they develop as players as well as our player pathway opportunities.
The COVID-19 crisis provided us with an opportunity to quickly innovate and take our business online, offering our football community with LIVE and VIRTUAL football sessions in the comfort of their own home. Regardless of isolation restrictions, we were still able to deliver our football program to our young players and the feedback received from our customers was amazing. Read all about it in Inside Franchise Business magazine 
We have several franchise business opportunities for you to consider as well as existing franchise businesses for sale. There's never been a better time to take control of your life and to join our award winning team.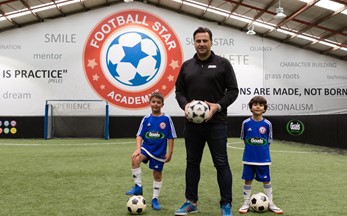 Peter Nikolakopoulos
Founder & CEO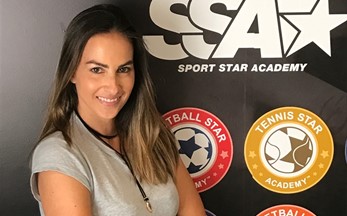 Kelly Nikolakopoulos
National Marketing Director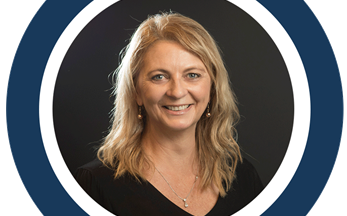 Sue Campbell
National Franchise Manager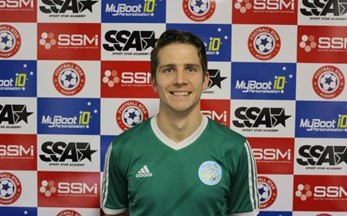 Elliott Capel
National Operations Manager
Interested in buying a franchise business? It's easier than you think to be your own boss!
Working with kids in sport is extremely rewarding. Be our next team member in a sport your passionate about complete with training and ongoing support throughout your franchise journey. Start your franchise business journey with us today.
Your Investment 
From $65,000
Finance Options Available
Football Star Academy Franchise Business Inclusions
Franchise Training (On & Off the field training)
Franchise Equipment Pack 
Coaches Uniforms, Coaching Equipment, Signage 
Centralised System
Personalised Business Email, 1300 Call Centre and Website
Automated Payment Gateway
Local Launch of your Business
National Marketing Support
Access to a Support Team throughout your Franchise Journey 
Weekly Calls, Monthly Meetings, Franchise Workshops & Coaching Workshops
Annual Conference
The franchise business approval process is dependent on the evaluation of individual applicants to ensure the applicant is the correct fit for the business, just as much as the business is a good fit for them. All potential franchise partners must align with our company values, mission and vision statements as part of the approval processes.
We take pride in our vigorous screening process when recruiting potential franchise partners. Does this sound like you?
Strong ability to build relationships
Strong Financial Position
Passionate about Sport & Making a difference within your local community
Strong Communicator
Loves working with kids
Hard working 
Innovative thinking 
Franchise Application Steps
Your first step is to fill out an enquiry form. You can find this form below. 
 
One of our dedicated team members will contact successfully applicants to discuss their application and answer questions the applicant may have.
 
CONGRATULATIONS! We would like to arrange a face to face meeting with our Franchise Development Manager, who will sit down with you and go through the business model.
 
Following this meeting should we both wish to proceed, the next step is to submit a fully refundable deposit. We will then sit down and discuss territory options that suit your profile and answer any questions you may have.
 
The Final Step should we both wish to proceed, will be to receive your legal pack. This includes A Franchise Disclose Document (FDD), The Franchise Agreement (FA) and a copy of the Franchise Code of Conduct. You will be required to submit a fully refundable holding deposit on these documents and you will use theses documents to obtain your own legal advice.
 
Following you receiving advice, the franchise will either be assigned to you or documents returned and holding deposit refunded.
WHAT IS THE ESTIMATED TOTAL INITIAL INVESTMENT OF INDIVIDUAL SPORT FRANCHISE?
The total initial investment will be approximately $65,000 plus GST
CAN WE BUY COMPANY OWNED LOCATIONS?
Yes you can. Be mindful that existing company owned locations are more expensive to purchase.
WHAT IS YOUR ROYALTY FEE?
Management Fee is 10% plus 2% Marketing Fund contribution
ARE YOU A MEMBER OF THE FRANCHISE COUNCIL OF AUSTRALIA?
Yes we are. Our National Support Team play an active role within the FCA. Find out more about FCA by clicking here 
HOW MUCH CAN I MAKE? 
Information on financials and potential earnings will be presented at our face to face meeting. You will also be encouraged do your own due diligence based on financial information presented.
IS A SPORT FRANCHISE ONLY PROFITABLE DURING THEIR SEASON?
No, as our company owned clinics have demonstrated, there is a demand for all year round.  The Football Star Academy program has several programs running all year round ensuring our team and franchise partners have multiple revenue streams. 
IS THIS ONLY AT THE WEEKENDS?
No, this is a 7 days a week business. However you have the flexibility to work your own hours based on the lifestyle you choose. 
DO I HAVE TO OPERATE THIS BUSINESS MYSELF?
For those potential franchise partners who are looking for an investment driven purchase, we work with you to employ an Operations Manager who can run it under management. We have several partners on board who have structured the purchase of their franchise this way.  
WHAT TYPE OF TRAINING AND SUPPORT DO YOU OFFER?
We have an intense training induction process for all new franchise partners coming on board. This includes "on the field" and "off the field" training. Training covers everything from HR, OH&S, Sales, Business Development and Marketing. You will also be training in our program curriculum by our Head of Coaching. Once you begin your journey you will have ongoing access to our Support team including Sales, Marketing and Operations advice. 
DO I GET TO DECIDE MY LOCATION/TERRITORY?
Yes, depending on availability. This is something we help and assist you with to select the appropriate one for you.
DO I NEED TO DELIVER COACHING?
No, you do not need to coach, however, you will be trained in all aspects to enable you to give feedback to parents and be able to manage staff.
WILL MY TERRITORY BE EXCLUSIVE?
Yes. It will be exclusive based on Sport Star Academy research on the local area demographics. which has been professionally provided, your chosen territory is postcode segmented.
HOW IS A SPORT FRANCHISE BETTER THAN OPENING MY OWN SPORT ACADEMY?
Buy purchasing a Football Star Academy franchise you are taking advantage of our existing and proven successful business model as well as years of experience in the industry. Football Star Academy is the leading provider of skill based football programs with over 150 locations nationally and over 6,5000 children enrolled in our programs. You will have access to our proven systems and procedures, marketing support, centralised system and brand new booking platform. You also have the support of our National Support Office team throughout your franchise journey. We are with you every step of the way.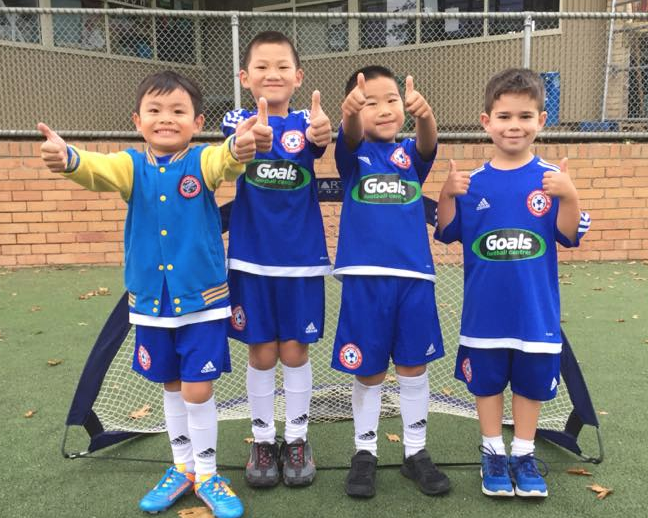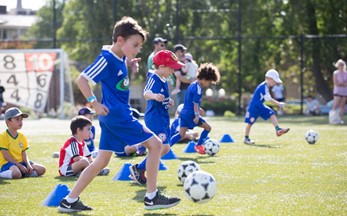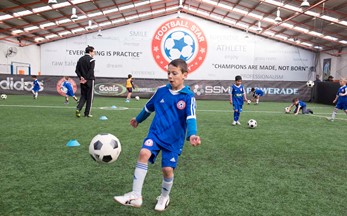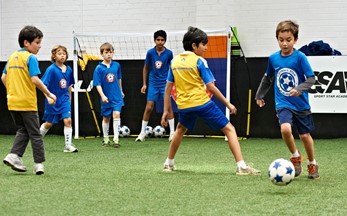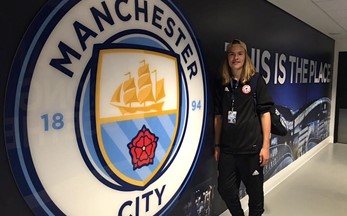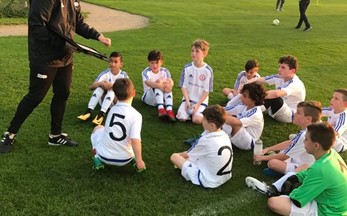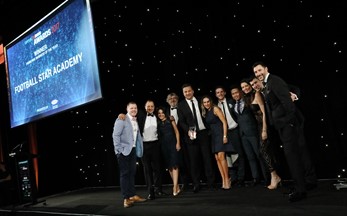 Be part of an award winning team united in their vision in developing the future football stars of tomorrow.
Find out why Tim loves coaching over 260 kids per week